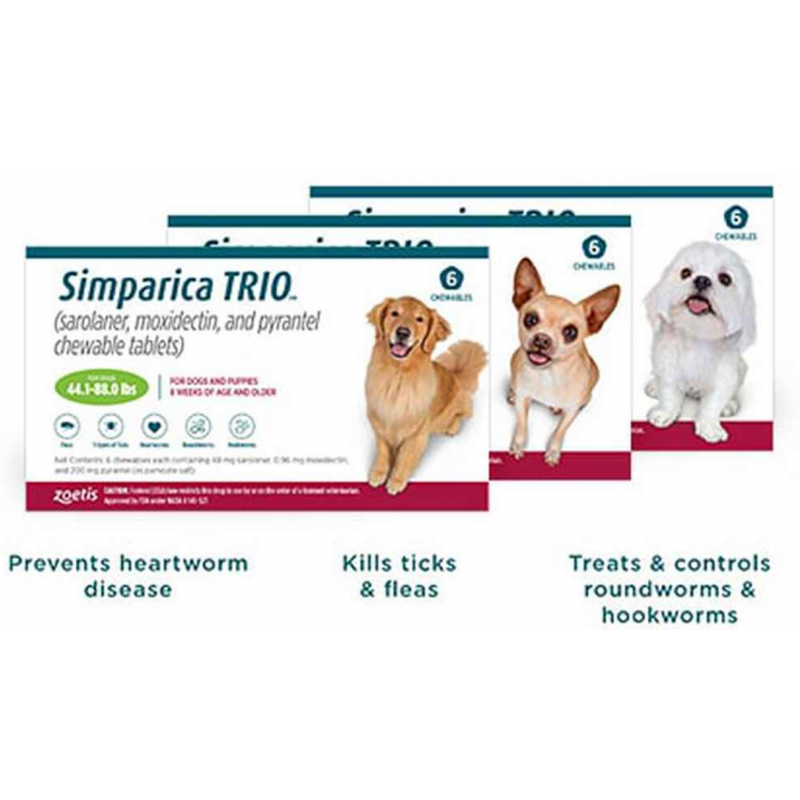  
Simparica TRIO
Tax excluded
Delivery: 1 to 3 weeks
Security is our top and the most important priority. VARPIX protects your personal data and information against unauthorized processing and against accidental loss, damage or destruction.

Please allow between 15-45 days for your order to arrive. If more than 45 days have passed please contact us to review the status of your order.

We offer 30 days return policy, returns are subject to approval, please contact us for any question.
Simparica Trio for Dogs
This monthly chewable Simparica Trio is 100% protection and the advanced product among all. It can treat 5 parasites at a time and can protect well against heartworm disease, ticks & fleas, roundworms even hookworms. This also has been approved by FDA – Food, and Drug Administration department and is recommended by various vets as well. It is designed to create self-defense and increase the shield for dogs. Single chewable works against 2-3 parasites and is preferable by the pet owners single long times. It is advised to give to dogs over and above the age of 8 weeks old and at least of weight 2.8 lbs.
Information
These are liver-flavored chewable which can be given with and without food depending upon your pet's preference and past experience. There are three key ingredients – Sarolaner, which kills fleas and ticks; Moxidectin, which prevents heartworm diseases and Pyrantel, to treats and control roundworms and heartworms.
Manufacturer
Zoetis
Benefits
Easy to give
100% effectiveness in 8 hours
Simplify your routine
Easily treats 5 parasites at a time.
Starts killing fleas within 4 hours
Unique chemical composition that consists of three different ingredients.
Can be given with or without food.
Kills fleas before they lay eggs.
Easy to administer tasty chewable.
Directions
Simparica Trio should be administered orally every month.
If the dog does not like to take directly, it can be mixed with the food.
It is important to administer the dose at the same time every month.
If a dose is missed then you should dose immediately after recall and resume on monthly schedule.
Safety
Check with your Vet if your dog has history of Seizures
It is not advised to use Simparica in breeding, pregnant dogs and lactating dogs.
In case of vomiting or diarrhea please meet the Veterinarian.
Name :

BestDeals Store Return Policy

Description

BestDeals Store Return Policy

Click here to get more details