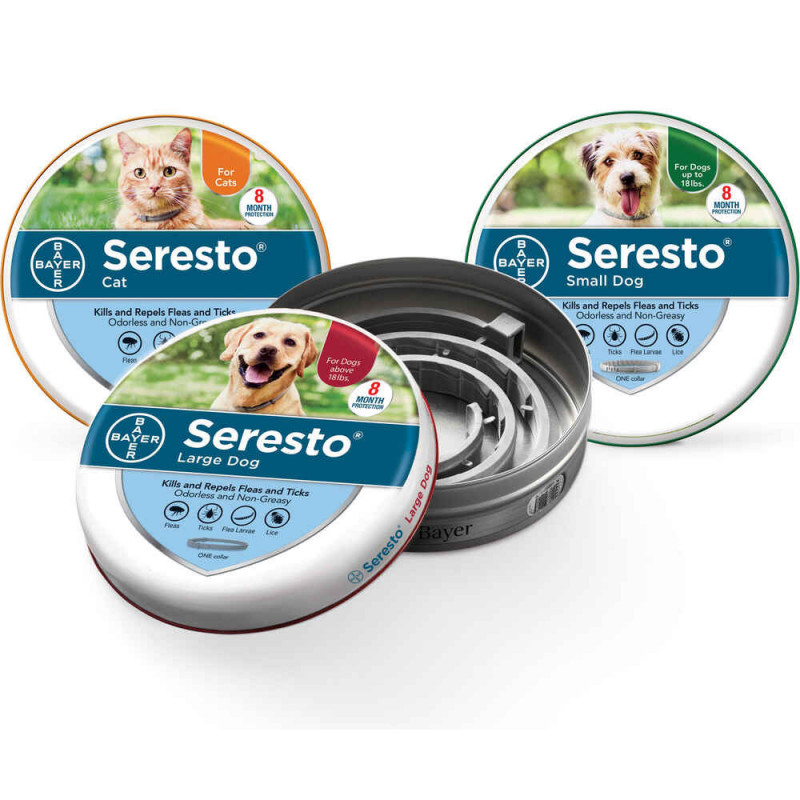  
Seresto
Seresto is an effective, reliable alternative to monthly flea and tick topicals.
Tax excluded
Delivery: 1 to 3 weeks
Security is our top and the most important priority. VARPIX protects your personal data and information against unauthorized processing and against accidental loss, damage or destruction.

Please allow between 15-45 days for your order to arrive. If more than 45 days have passed please contact us to review the status of your order.

We offer 30 days return policy, returns are subject to approval, please contact us for any question.
Description
With its innovative delivery system, the Seresto 8 Month Flea & Tick Collar for Large Dogs & Puppies offers a breakthrough in tick and flea control for your precious pup. This veterinarian-recommended treatment is specifically formulated to repel and kill fleas and ticks on contact with no painful biting required. Inside the unique polymer matrix of this easy-to-use, non-greasy, odorless collar are two active ingredients: imidacloprid to control flea infestations, and flumethrin to repel and kill ticks, larvae and nymphs. These ingredients work together to provide dual-action protection against parasitic pests for up to eight months!
Key Benefits
Veterinarian-recommended prevention treatment kills fleas and ticks on puppies and dogs 7 weeks and older weighing over 18 pounds.
Starts to repel and kill fleas within 24 hours of initial application and re-infesting fleas within two hours; works on contact with no painful biting required.
Also repels and kills ticks within 48 hours of initial application and re-infesting ticks within six hours; works on contact with no painful biting required.
Easy-to-use, 27.5-inch adjustable collar is odorless and non-greasy; quick-release feature and visibility reflectors provide extra safety.
Water-resistant formula continues working for up to eight months, even after bathing, swimming and sun exposure.
Precautions
Read the entire label before use. Use only on dogs. Do not let children play with this collar.
Important Information
Fleas rise to the top of your pet's coat as they die, so consider it a triumph if you start seeing more fleas at first, after treating your pet. If you're still seeing fleas after application, it may be because your pet has picked up new fleas from the environment, which may include other pets, surfaces and outdoor areas. It may take up to 30 days to break the entire flea life cycle. Additionally, you should also treat sources of new fleas (i.e., carpet, yard, etc.) to ensure complete flea control.
Name :

BestDeals Store Return Policy

Description

BestDeals Store Return Policy

Click here to get more details