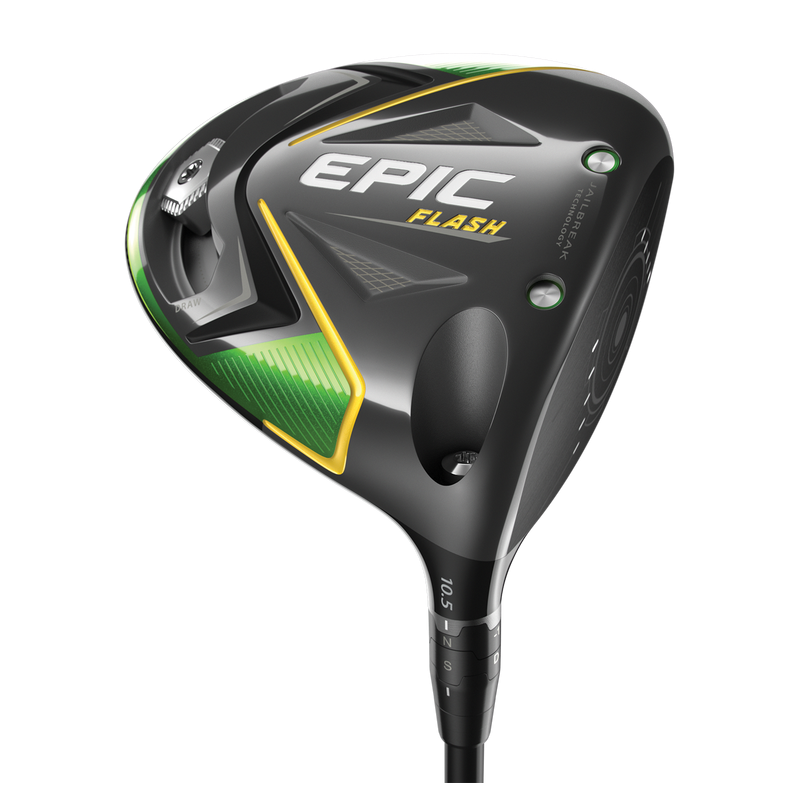  
CALLAWAY EPIC FLASH WOMEN'S DRIVER W/ EVENFLOW GREEN 40 SHAFT
The new Epic Flash driver employs a new Callaway technology called Flash Face to help golfers get more ball speed for more distance. That great feeling you get when you make a good swing and crush one off the tee? Flash Face makes the ball go faster and farther. 2000000003048
Tax excluded
Delivery: 1 to 3 weeks
Security is our top and the most important priority. VARPIX protects your personal data and information against unauthorized processing and against accidental loss, damage or destruction.

Please allow between 15-45 days for your order to arrive. If more than 45 days have passed please contact us to review the status of your order.

We offer 30 days return policy, returns are subject to approval, please contact us for any question.
ARTIFICIAL INTELLIGENCE. REAL BALL SPEED.

The new Epic Flash driver employs a new Callaway technology called Flash Face to help golfers get more ball speed for more distance. That great feeling you get when you make a good swing and crush one off the tee? Flash Face makes the ball go faster and farther.

How? Flash Face's unique, internal mapping consists of dozens of subtle ripples flowing from heel to toe. Though the size, height and configuration of the ripples appears random, they in fact work together cohesively to elevate COR in the face's center region. That convention-defying accomplishment results in a significant ball speed boost for a noticeable distance increase when you make solid contact, helping make your longest drives go even longer.

Flash Face's sophisticated architecture was created by Artificial Intelligence – the first known instance of using A.I.in the golf equipment industry -- and "Machine Learning," a field of computer science that uses statistical techniques to give computer systems the ability to "learn" with data without being explicitly programmed. A new driver face design typically takes eight to ten iterations. Through Machine Learning our computers cycled through 15,000 face architecture iterations, learning from each one, before arriving at Flash Face.

The distinctive topography on the inner side of the Flash Face is forged from a special titanium and heat treated at 595 Celsius (1100F) for two hours to create a face that combines a low modulus measurement, for flexibility and speed, with excellent strength properties.

New Flash Face Technology for Faster Ball Speed
Callaway engineers used Artificial Intelligence and Machine Learning to create a radically different face design to promote faster ball speed in the center region of the face.

Jailbreak Technology for Faster Ball Speed
Internal Jailbreak bars stiffen and stabilize the crown and sole, placing more impact load on the face to promote faster ball speed.

New T2C Triaxial Carbon Crown Material for Higher MOI
A new lighter triaxial carbon fabric called T2C has a tighter weave; the weight it saves is redistributed within the head to raise MOI for exceptional forgiveness on off-center hits.

Adjustable Perimeter Weighting for Ball Flight Control
Sliding 16-gram weight gives golfers the power to easily promote draws, fades or a straighter flight.
Name :

BestDeals Store Return Policy

Description

BestDeals Store Return Policy

Click here to get more details