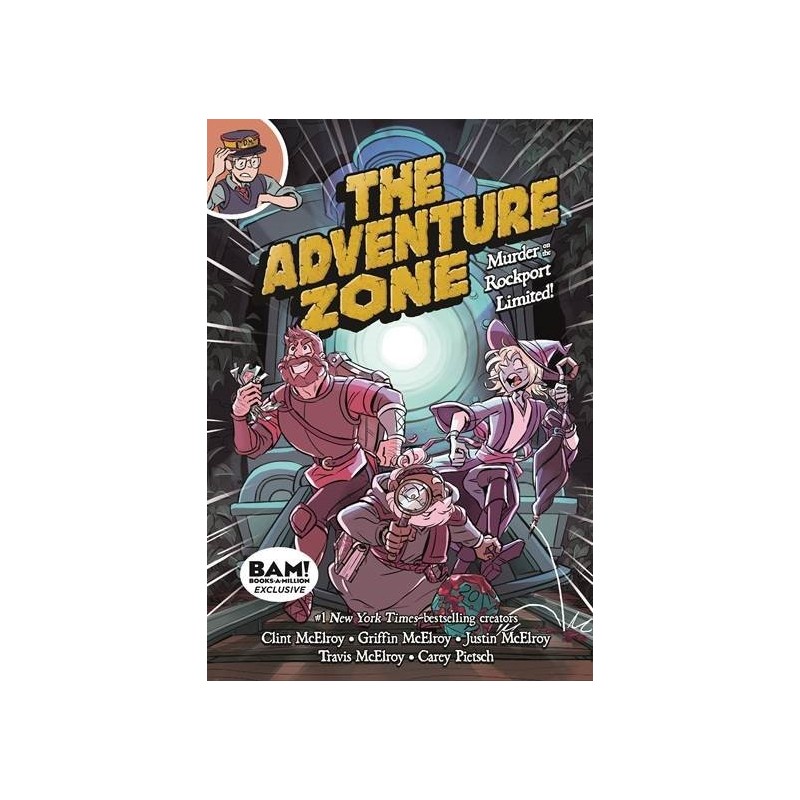  
The Adventure Zone - Murder on the Rockport - Limited -
by Clint McElroy and Griffin McElroy and Justin McElroy
Tax excluded
Delivery: 1 to 3 weeks
Security is our top and the most important priority. VARPIX protects your personal data and information against unauthorized processing and against accidental loss, damage or destruction.

Please allow between 15-45 days for your order to arrive. If more than 45 days have passed please contact us to review the status of your order.

We offer 30 days return policy, returns are subject to approval, please contact us for any question.
Overview
In the second Adventure Zone graphic novel (adapted from the McElroy family's wildly popular D&D podcast), we rejoin hero-adjacent sort-of-comrades-in-arms Taako, Magnus, and Merle on a wild careen through a D&D railroad murder mystery. This installment has a little of everything: a genius child detective, an axe-wielding professional wrestler, a surly wizard, cursed magical artifacts, and a pair of meat monsters.
You know, the usual things you find on a train.
Hot on the heels of The Adventure Zone: Here There Be Gerblins, the smash hit graphic novel that launched the series, The Adventure Zone: Murder on the Rockport Limited picks up the saga where volume 1 left off. Both books are based on "The Adventure Zone," a tabletop RPG comedy podcast with downloads numbering in the tens of millions and an army of passionately devoted fans. With art and co-adaptation from Carey Pietsch, the McElroys are once again turning their raucous freewheeling D&D campaign into some damn fine comics.
Get your copy of "The Adventure Zone - Murder on the Rockport  - Limited - by Clint McElroy and Griffin McElroy and Justin McElroy" and enjoy your time. 
Details
ISBN-13: 9781250253682
ISBN-10: 1250253683
Publisher: First Second
Publish Date: July 2019
Name :

BestDeals Store Return Policy

Description

BestDeals Store Return Policy

Click here to get more details