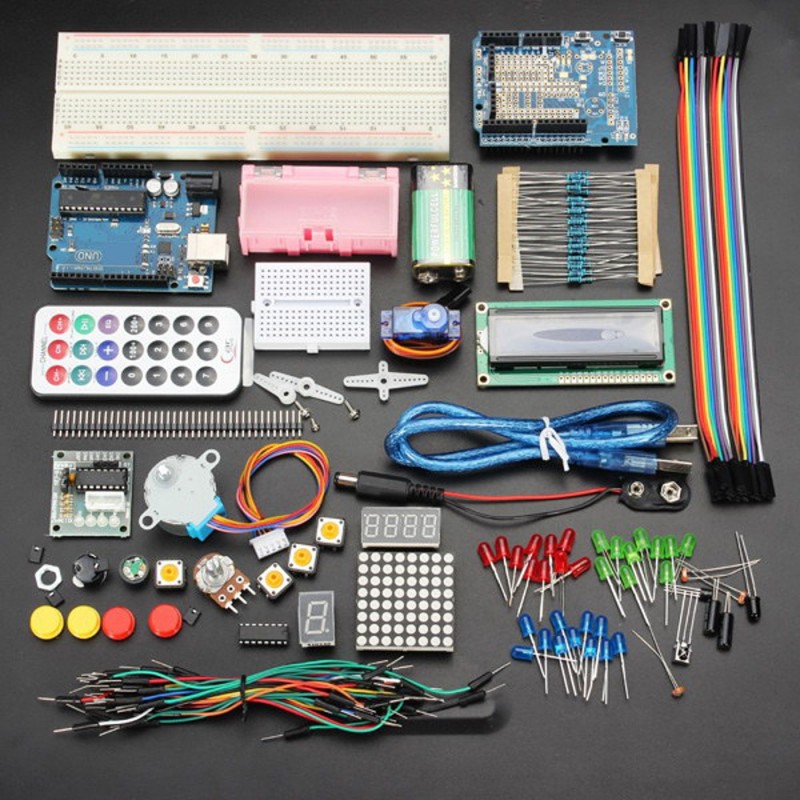  
Geekcreit UNOR3 Basic Learning Starter Kits
Upgrade Version For Arduino - 01970714
Tax excluded
Delivery: 1 to 3 weeks
Security is our top and the most important priority. VARPIX protects your personal data and information against unauthorized processing and against accidental loss, damage or destruction.

Please allow between 15-45 days for your order to arrive. If more than 45 days have passed please contact us to review the status of your order.

We offer 30 days return policy, returns are subject to approval, please contact us for any question.
Product packaging: carton packaging only

Feature:

This is a upgrade version UNO_R3 starter kit, add more components to achieve more features and experiment.
You'll learn through building several creative projects.
Starting the basics of electronics, to do more complex projects, the kit will help you control the physical world with sensor and actuators.

Package included:

1 x Arduino compatible UNO_R3 development board
1 x USB cable
1 x Prototype extension board
1 x Mini breadboard
1 x 5V stepper motor
1 x 2003 stepper motor driver board
10 x Red LED
10 x Green LED
10 x Blue LED
2 x Vibration Sensor
1 x Flame sensor
1 x LM35 temperature sensor
1 x Infrared receiver
3 x Photoresistor
4 x Key cap
4 x Key switch
1 x Adjustable potentiometer
1 x Passive buzzer (piezo buzzer)
1 x Active buzzer (tone generator)
1 x Jumper cap
1 x Large breadboard
1 x Remote Control
1 x 1602 Screen
1 x 9G servos
1 x Component box
1 x 10p DuPont line
30 x Breadboard line(approximately)
1 x 220ohm resistance
1 x 8*8 dot matrix
1 x One digit eight segment tube
1 x Four digit eight segment tube
1 x IC 74HC595
1 x Battery Holder
1 x 1K resistor plug
1 x 10K resistor plug
1 x 9V battery
1 x 2.54mm 40pin pin header


No customer reviews for the moment.
Name :

BestDeals Store Return Policy

Description

BestDeals Store Return Policy

Click here to get more details