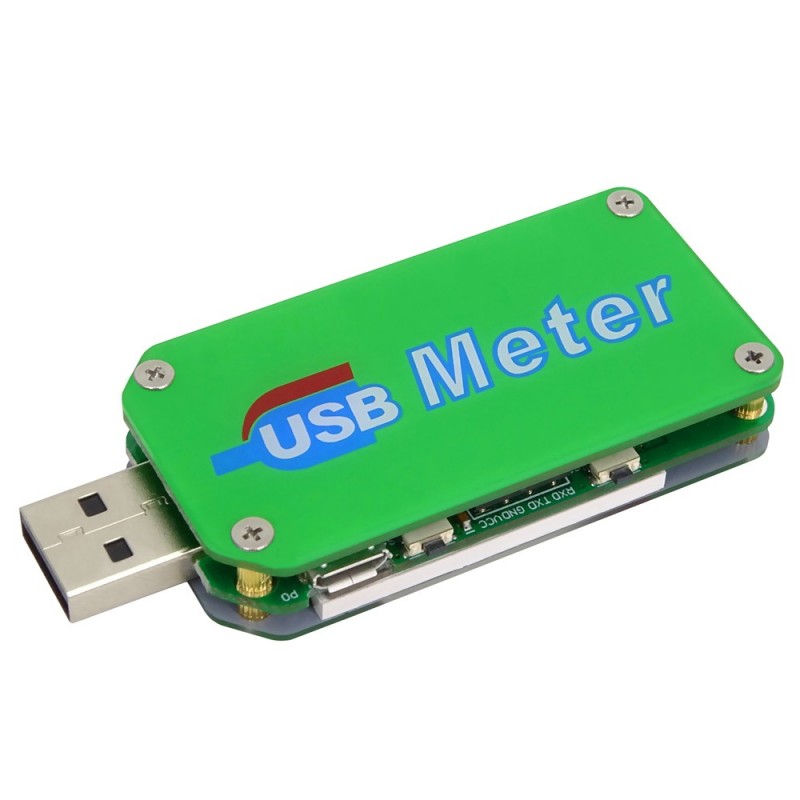  
RUIDENG UM24/UM24C USB 2.0 Color LCD Display Tester
Voltage Current Meter Voltmeter Amperimetro Battery Charge Measure Cable Resistance 011240574
Tax excluded
Delivery: 1 to 3 weeks
Security is our top and the most important priority. VARPIX protects your personal data and information against unauthorized processing and against accidental loss, damage or destruction.

Please allow between 15-45 days for your order to arrive. If more than 45 days have passed please contact us to review the status of your order.

We offer 30 days return policy, returns are subject to approval, please contact us for any question.
Technical Parameter:
 
Product Model:UM24/UM24C                                            Product weight:23.47g(UM24C) 18.83g(UM24)
Voltage measurement range:4.50-24.00V                        Voltage measurement resolution:0.01V
Current measurement range:0.000-3.000A                      Current measurement resolution:0.001A
Capacity accumulation rannge:0-99999mAh                    Voltage measurement accuracy:±(0.2%+1 digit)
Energy sccumulation range:0-99999mWh                        Current measurement accuracy:±(0.8%+3 digit)
Load impedance range:1.5-9999.9Ω                                Time measurement range:0-99h59min59s
Temperature range:-10℃~100℃/0℉~200℉                    Temperature measurement error:±3℃/±6℉
Screen brightness setting:0-5 level                                   Auto screen off time:1-9mins
Voltage graphing range:04.5-24.0V                                  Current graphing range:0.00A-3.00A
Display screen:1.44 Inch color LCD display                      Quick charge recognition mode:QC2.0     QC3.0
Refresh rate:2Hz                                                               Product size:71.2mmx31.8mmx12.4mm(UM24C) 71.2mmx31.8mmx11.3mm(UM24)     

Note: 
1. UM24 is no communication version(Type A), UM24C is conmmunication version by Bluetooth connection(Type B). 
2. PC software support PC window (Win 7 and above) and Phone Android (Android 5.0 and above, support 3 kinds language, chinese, english and Russia)
3, User manual, PC software installation instruction and PC software and Android APP download link: 

http://www.mediafire.com/folder/0jt6xx2cyn7jt/UM24
A: It only support android 5.0 and above.
B: allow APP can do in the background, not cleaned.
C: allow APP self-starting.
D: Allow stay after screen locked, not cleaned
 
Product Model

UM24(C)

UM34(C)

UM25(C)

USB Port

USB 2.0

Support OPPO phone VOOC,

Support Huawei quick charge

Expansion port

Micro USB

Micro USB/Type-C

Micro USB/Type-C

Special function

 

One button to close screen, voltage current 2in1 graph,

Voltage measurement range

4.5-24V

4-24V

Current measurement range

0-3.000A

0-4.000A

0-5.0000A

Voltage measurement resolution

0.01V

0.001V

Current measurement resolution

0.001A

0.0001A

Capacity accumulation range

0-99999mAh

Energy accumulation range

0-99999mWh

0-99999mWh-999.99Wh

0-99999mWh

Product Mode

QC2.0, QC3.0

QC2.0, QC3.0, APPLE 2.4A/ 2.1A /1A/ 0.5A
Andriod DCP, SAMSUNG
 

Package included:

1 x USB 2.0 Color LCD Display Tester
No customer reviews for the moment.