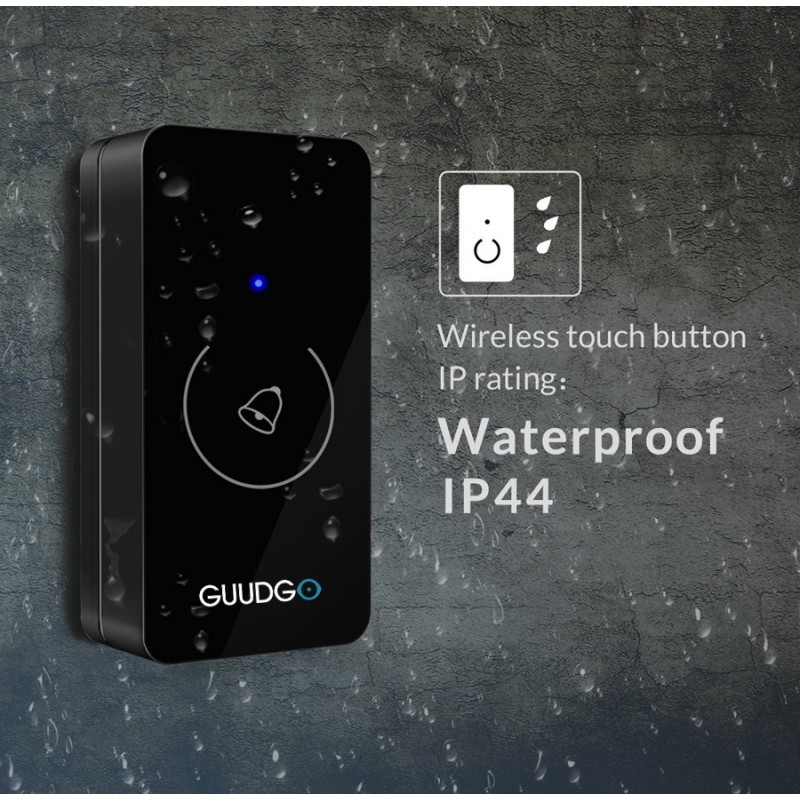  
Guudgo GD-MD01 Wireless Touch Screen Music Doorbell
Portable Waterproof Doorbell 52 Melody Chime - 011149210
Tax excluded
Delivery: 1 to 3 weeks
Security is our top and the most important priority. VARPIX protects your personal data and information against unauthorized processing and against accidental loss, damage or destruction.

Please allow between 15-45 days for your order to arrive. If more than 45 days have passed please contact us to review the status of your order.

We offer 30 days return policy, returns are subject to approval, please contact us for any question.
Features : We're Revolutionizing the Touch Screen Doorbell! Why Choose Our Wireless Doorbell? - Offers 52 melodies and 5 volume settings 
- Sleek, modern design
- Features a touch sensor and automatic coding
- Easy to install
- Weatherproof Try Risk
A doorbell may seem like a simple device, but a functioning system is important for any home.
Not only does it notify you when guests have arrived, but it can also help keep you and your family safe.

Modern design meets technological innovation in the Wireless Doorbell from 
Guudgo
!
This system includes one push button (transmitter, 1.61" x 3.11") and one door chime (receiver, 2.53" x 4.08") for a complete, all-in-one kit.

It provides an incredible support range of up to 150M, ensuring you'll hear it in every room of the house. It also features 52 melodies and 5 volume levels for a customizable experience. With a state-of-the-art touch sensor and automatic coding capabilities, our doorbell is just as sleek and modern as it looks!

For your convenience, we provide the hardware needed for a quick installation. Use the double-sided sticker for temporary hanging, or use the anchors and screws for a long lasting hold. As an industry leader, 
Guudgo
 is committed to providing practical, premium products!

Our wireless doorbells are expertly crafted and boast an IP44 weatherproof rating.
From heat and rain to snow and freezing temperatures, this unit can withstand it all.
Specification :
Product number:GD-MD01
Color
: 
Black
Dimension
: 
5 x 5 x 5 cm ; 100 g
Weight: 259g
Power supply: 
Receiver - 3pcs AA 1.5V battery(Not Included)
Transmitter - 1pc 23A 12V Battery(Included)
Package Includes :
1 x Door chime (Receiver)
1 x
Push button (Transmitter)
1 x User manual
1 x Color Retail Box
,
,
,
,
,
,
No customer reviews for the moment.
Name :

BestDeals Store Return Policy

Description

BestDeals Store Return Policy

Click here to get more details