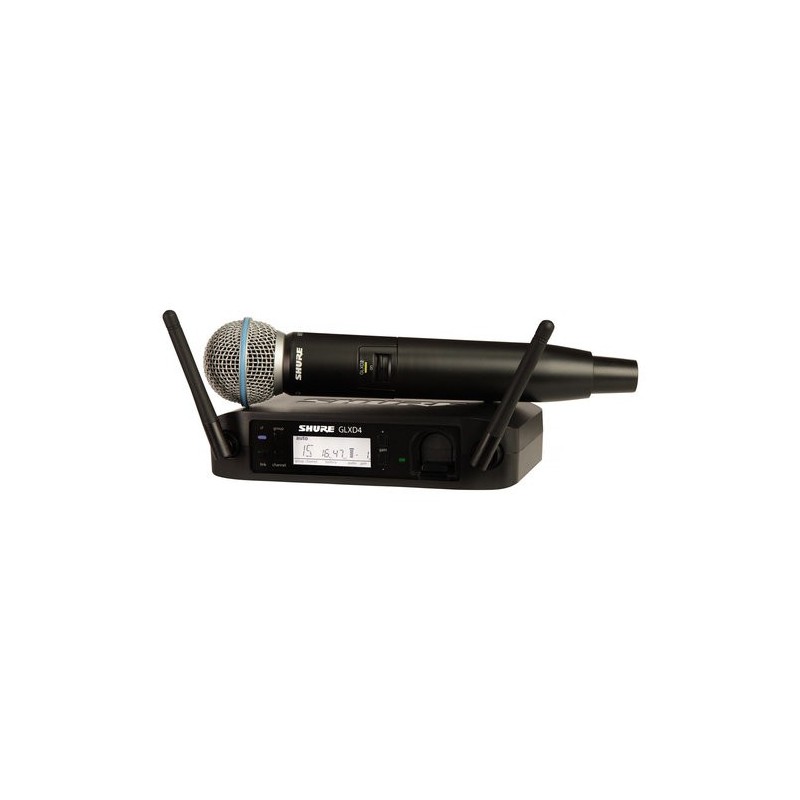  
Shure GLXD24/B58 Wireless Handheld Dynamic Microphone System
Shure Wireless Handheld Dynamic Microphone System
Tax excluded
Delivery: 1 to 3 weeks
Security is our top and the most important priority. VARPIX protects your personal data and information against unauthorized processing and against accidental loss, damage or destruction.

Please allow between 15-45 days for your order to arrive. If more than 45 days have passed please contact us to review the status of your order.

We offer 30 days return policy, returns are subject to approval, please contact us for any question.
This Package Includes:
GLXD2/BETA58 Handheld Microphone Transmitter
GLXD4 Wireless Receiver
GLXD2/BETA58 Handheld Microphone Transmitter
Featuring an integrated BETA 58A cartridge, the GLXD2/BETA58 transmits wireless audio with digital clarity and rock-solid reliability.
Features
Works with GLX-D Digital and GLX-D Advanced Digital Wireless Systems
Offers up to 16 hours of continuous battery life with lithium-ion rechargeable batteries
GLXD4 Wireless Receiver
The GLXD4 single-channel wireless receiver features revolutionary LINKFREQ Automatic Frequency Management (2.4 GHz frequency band) and battery rechargeability. An integrated battery charge port can charge a spare Shure lithium-ion battery while the system is in use.  
Allows operation of up to 4 compatible systems in a typical setting, and up to 8 maximum under ideal conditions. For use with GLX-D Digital Wireless Systems.
Features
High-resolution LCD screen status display
Real-time transmitter battery status displayed in hours and minutes (accurate within + / - 15 minutes)
Remote adjustable transmitter gain control
Two-color charge indicator LED

Green:  Charged
Flashing Green: 90% charged
Red:  Charging

XLR and ¼" output connectors
Lightweight, durable construction
Name :

BestDeals Store Return Policy

Description

BestDeals Store Return Policy

Click here to get more details
Shure GLXD24/B58 Wireless Handheld Dynamic Microphone System